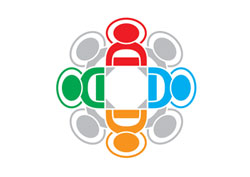 Think of all the negative connotations of words that begin with the prefix 'dis': disassemble, disassociate, disrepair, disgust, displace, displeasure, disingenuous, dispute, dissonant, dissolute, distort, distress, dissuade, dissatisfied and disrespect…
'Dis' leaves Diverse Options President Al Schraeder dispirited, disappointed, displeased and disturbed. So, from now on, Diverse Options has dropped the 'dis'.

"Those three letters are not a positive thing, so we are dropping the 'dis,'" Schraeder said, citing the new Diverse Options, Inc. slogan, #dropthedis.

Diverse Options is removing the 'dis' from all the organization's printed materials and its Web site and Facebook page. We're not going to use it. Why do we need to refer to the people we work with as having disabilities? We don't have to.

They're people; people we work with; people who are part of the Diverse Options, Inc. family. And families are strongest when they care for each other.

At Diverse Options, we focus on people. We focus on ability. We focus on caring for the members of our extended DO, Inc. family.

Wear your wrist-band proudly, and when someone asks you what #dropthedis means, make sure you tell them!